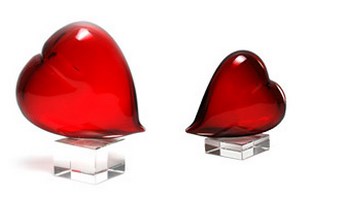 Hearts
Consider these unique and beatiful gifts for your very special one. We guarantee unique craftmanship, irresistibly Venetian design and amazing quality!We offer translucent brignt red and calcedony hearts designs. The translucent hearts are mounted on clear crystal blocks that accentuate the shape of the heart. The Calcedony hearts resemble real hearts with striations that gives the illusion of heart muscles and sinews.
Sort By:
Min price:
Max price:
Items per page:
Height: 8.00" Width: 7.00"

H: 10.00" W: 6.00" L: 5.00"
Sort By:
Min price:
Max price:
Items per page: