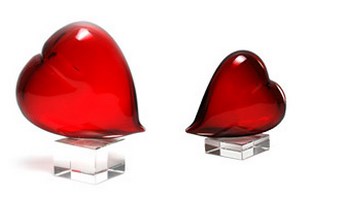 Hearts
Murano glass hearts are blood red creations that are appreciated by the romantic world. They are beautifully formed glossy objects that can sit on your table reminding you of the heart beats of your beloved. The translucent hearts are mounted on clear crystal blocks that accentuate the red color of the heart. The calcedonia hearts resemble real hearts with striations that gives the illusion of heart muscles and sinews. They make excellent Valentine's Day gifts.
Sort By:
Min price:
Max price:
Items per page:
H: 10.00" W: 6.00" L: 5.00"

Height: 8.00" Width: 7.00"
Sort By:
Min price:
Max price:
Items per page: