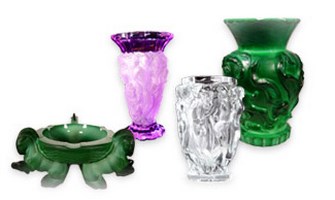 Art Glass Centerpieces
It is time for holiday crystal gifts. At muranoglassgifts,com we have unique and authentic Czech Glass GIFTS in stock ready to ship. These pieces of crystal art are hand-blown, hand-cut crystal and have a minimum 24% lead content.And Bowls, Plates, and Centerpieces from artisans around the world including Europe and South America.And beatiful Vases created from artisans outside of murano, around the world. We've selected only the top quality artisans to provide the best quality product for our customers.
Sort By:
Min price:
Max price:
Items per page:
H: 15.00" W: 4.00" L: 8.00"

H: 14.00" W: 6.00" L: 10.00"

H: 6.00" W: 12.00" L: 12.00"

H: 4.5" W: 5.00" L: 5.00"

Height: 6.00" Width: 7.00"

H: 2.50" W: 7.50" L: 11.00"

Height: 7.00" Width: 6.00"

Height: 3.00"

Length: 6.75"

Height: 6.00" Length: 11.50"
Sort By:
Min price:
Max price:
Items per page: