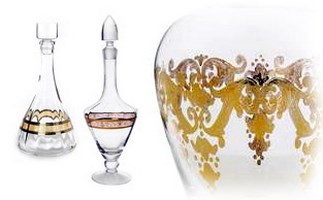 Glass Decanters & Pitchers
This line of High Class glass decanters is designed to enhance the flavor of any drinking experience by adding style and finesse to it. The slick shape of each one of the decanters fits easily into the hand and preserves the temperature and or carbonation of the drink.Crafted in Europe by master glassmakers with the highest quality materials and 24K Gold, these decanters will surely keep you satisfied with its quality for many years to come. Plus, they'll stand up as sign of high status in restaurants, and banquet facilities.A great gift for someone or for yourself.
Sort By:
Min price:
Max price:
Items per page:
Height: 12"

Height: 12.00" Width: 4.25"

Height: 5.00"

Height: 12.50"

H: 8.00" W: 4.50" L: 7.00"
Sort By:
Min price:
Max price:
Items per page: