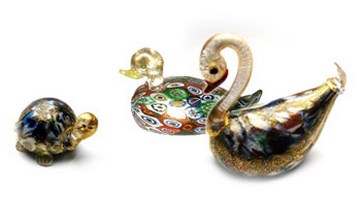 Murano Murrine Glass
Murrine technique of coloring glass is a highly complicated and prolonged technique. But when you take one look at the finished product you will realize that it is worth the time and energy. A glass rod is repeatedly rolled in molten glass of various colors. The thin cross sections of this rod are stuck to the other glass objects to give them highly picturesque designs. The Murrine glass objects, therefore, are prized all over the world. The collectors vie with each other to own one of these. So it is a valuable gift object.
Sort By:
Min price:
Max price:
Items per page:
Height: 9.00"

Width: 3.50"

Length: 4.00"

Length: 3.25"

Height: 6.5"

Height: 3.00" Length: 4"

Height: 4" Width: 4"

Height: 4" Width: 4"

Width: 4.00"
Sort By:
Min price:
Max price:
Items per page: