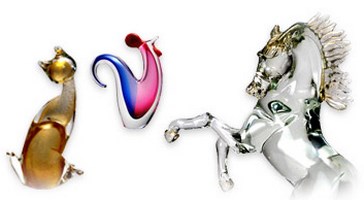 Murano Glass Animals
Murano glass animals are universally acclaimed for their delicate beauty and structural perfection. The unparalleled workmanship of the artisans is evident from the Murano glass creations and the animals are yet another group of superlative creations. The artists use all the complicated techniques like 'Calcedonia' and 'Murrine' to produce spectacular glass animal figurines.These excellent miniatures are first class gift items and collectibles and will enhance anybody's collection.
Sort By:
Min price:
Max price:
Items per page:
Height: 10.00"

Height: 10.00"

H: 9.50" W: 4.00" L: 9.00"

Height: 10.75" Length: 8.00"

Height: 11.00"

Height: 14.00"

Height: 13"

Height: 13"

Height: 13"

Height: 17.00"
Sort By:
Min price:
Max price:
Items per page: