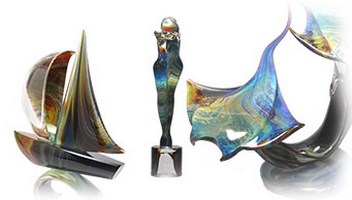 Calcedony Murano Glass
The calcedony collection of Murano glass objects are coveted by world class collectors. This technique of coloring glass is evolved in Murano as early as the 15th century. This special technique involves the use of silver nitrate in molten glass. The resulting coloration and designs are completely unexpected. Even the artist has no control over the striations which are formed. For the same reason, the finished products surprise its creator as much as the buyer. This specialty of the designs is the attraction of the calcedonia glass collection. One of these objects placed in a strategic position in your home or office serves as your style statement.
Sort By:
Min price:
Max price:
Items per page:
H: 10.00" W: 6.00" L: 5.00"

Height: 14" Width: 3.00"

Height: 16" Width: 3.00"

H: 18" W: 7" L: 4.5"

Height: 21.50" Width: 5.50"

Height: 14.00"

Height: 17.75"

Height: 14.00" Length: 8.00"

Height: 22.5" Width: 4.50"
Sort By:
Min price:
Max price:
Items per page: