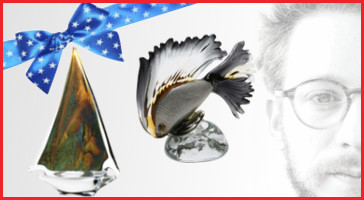 Gifts for Him
Gifts usually demonstrate the giver's feelings for the recipient. Soexchanging gifts is an indispensable aspect of any relationship. It is veryimportant that you choose gifts that suit the person and occasion. Muranoglass artisans are extremely imaginative and their exquisite glass artpieces suit any occasion and people of all ages.While choosing a gift for a man you should be careful enough to choosesomething that has a decided masculine character to it. The gift shouldreflect masculine interests and hobbies. Our nautical items areexcellently suited to manly interest. The calcedonia sculptures have adecidedly masculine quality about them. The abstract sculptures also verysturdy and the squares and triangles piled in artistic formations will standproudly on a man's table as a statement. The marine animal figures thatcapture the creatures in various fluid postures are good gifts for yourmale friend. If you are romantically involved with him, you can choosefrom our couple figurines in different poses.
Sort By:
Min price:
Max price:
Items per page:
Height: 14.5" Length: 8.00"

Height: 17.00"

H: 10.00" W: 6.00" L: 5.00"

Height: 10.00"

Height: 14.00"

Height: 16.50"

Height: 13"

Height: 14.00"

Height: 16.50" Length: 10.50"

Height: 10.00"

Height: 17.00"

Height: 14.00"

Height: 17.00" Width: 11"

Height: 21.50" Width: 5.50"

Height: 14.00"

Height: 17.75"

Height: 14.00" Length: 8.00"
Sort By:
Min price:
Max price:
Items per page: