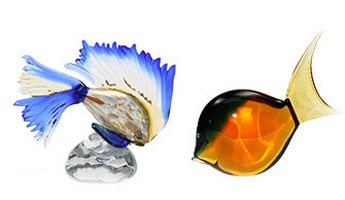 Nautical Murano glass
The Murano glass figures with nautical themes are fabulous articles which capture the hearts of art lovers all over the world. The miniature boats and various other water creatures are perfect examples of Murano workmanship. The fish figures are complete in every detail and very much life-like. These figures include Murrine and calcedonia figures. They are excellent décor articles. You can gift these to your dear ones confidently. These nautical figures fashioned in exquisite colors will gladden the heart of any recipient.
Sort By:
Min price:
Max price:
Items per page:
Height: 9.00"

Height: 9.00"

Length: 3.25"

Height: 15.00" Width: 10.00"

Height: 16.00" Length: 11.25"

Height: 19.00"

Height: 17.00"

Height: 13"

Height: 16.50" Length: 10.50"

Height: 21" Length: 13.5"

Height: 17.00" Width: 11"

H: 3" W: 5.5" L: 6"

H: 9" W: 4" L: 8"

H: 12" W: 4" L: 9"

Height: 7.00"

Height: 20.50"
Sort By:
Min price:
Max price:
Items per page: