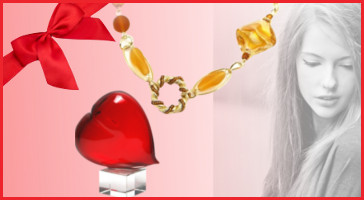 Gifts for Her
Gifts usually demonstrate the giver's feelings for the recipient. Soexchanging gifts is an indispensable aspect of any relationship. It is veryimportant that you choose gifts that suit the person and occasion. Muranoglass artisans are extremely imaginative and their exquisite glass artpieces suit any occasion and people of all ages.When it comes to choosing gifts for ladies, you have a whole lot of itemsin our list. Murano glass jewelry is a much coveted gift item for ladies. Ifyou are thinking of surprising your mother or grandmother, we have anumber of beautifully hand-crafted vases and bowls, which will grace theirtables on all occasions. Your sweetheart will be highly pleased to haveone of our romantic sculptures or a ruby red Murano glass heart. Thesculpture glass goblets can be gifted to any lady, notwithstanding thetype of relationship you have with her. The laguna art bowls and plattersare another category of gifts that will be appreciated by all your ladies.
Sort By:
Min price:
Max price:
Items per page:
Height: 2.50" Length: 4"

Height: 16.00"

Height: 12.00"

Height: 12.00"

Height: 7" Width: 5.25"

Height: 14" Width: 4.5"

Height: 8" Width: 4"

Height: 9.00"

Height: 4" Width: 4"

Height: 12.00"

Height: 11.00"

Height: 5.00" Width: 12"

Height: 8"

Height: 10.00" Width: 5.50"

Height: 7.50"

Length: 15.50"

Length: 18.00"

Height: 8.00" Width: 7.00"

H: 18" W: 7" L: 4.5"

H: 16.00" W: 8.00" L: 8.00"

Height: 22.5" Width: 4.50"
Sort By:
Min price:
Max price:
Items per page: