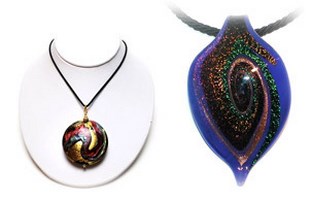 Pendants
Murano glass pendants are prized the world over for their purity, elegance and years of Italian glass making tradition. The finest raw materials result in glass of unequaled purity - a trademark of the highly sought after Murano Glass pieces and Murano Glass Pendants. Owning and wearing a Murano glass pendant is like displaying a fine piece of art. Still made in the traditional manner, each piece is handmade and no two pieces are alike, making your murano pendant a unique work of highly prized art. You will feel elegant and stylish, whether you accent and dress up a casual outfit with your beautiful Murano Glass Pendant or wear it for a night on the town. Murano glass jewelry is among the most beautiful you will find anywhere - go ahead, indulge yourself - you will treasure your Murano glass pendant for years to come!
Sort By:
Min price:
Max price:
Items per page:
Length: 24"

Length: 24"

Height: 3.00" Length: 21.50"

Height: 3.00" Width: 2.50"

Length: 8.00"

Length: 8.00"

Length: 8.00"

Length: 8.00"

Length: 8.00"

Length: 19"

Length: 14.00"

Length: 19"
Sort By:
Min price:
Max price:
Items per page: