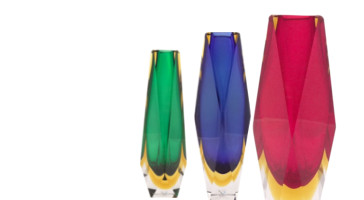 Diamond Cut Polished Sommerso Vases
These superior quality vases has been manufactured by one family in Murano for the past four generations. Premier retails in USA and around the word are offering these vases to their sophisticated customers. These vases are handcrafted in Sommerso techniques and then diamond cut and polished. These vases are mistakenly are being named as crystal, but this the blown glass and no lead dioxide has been used to produce these magnificent art pieces. Superior spotless quality, vibrant colors, true Murano Craftsmanship!
Sort By:
Min price:
Max price:
Items per page:
H: 12.00" W: 5,00" L: 5,00"

H: 8.00" W: 3,00" L: 3,00"

Height: 12.00"

Height: 12.00"

Height: 8.00"

Height: 8.00"

Height: 8.00"

Height: 12.00"
Sort By:
Min price:
Max price:
Items per page: