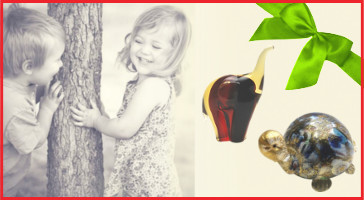 Gifts for Kids
It is very difficult to choose suitable gifts for children, especially whenthey are glass items. But the Murano glass artists have made a number ofsturdy murrine animal figures which are so colourful that they can capturethe fancy of any child. The laguna bowls can be gifted to slightly olderchildren so that they can use them as décor items on their table and atthe same time they can serve as containers for their small trinkets. Thecolorful animal figurines are also exquisite children's room décor items.The tiny glass ear drops will be the euphoria for any girl. They come indifferent colors and shapes.
Sort By:
Min price:
Max price:
Items per page:
Height: 9.00"

H: 3.00" W: 7.00" L: 5.00"

H: 15.00" W: 9.15" L: 6.00"

Height: 14.00"

Height: 16.50" Length: 10.50"

Height: 10.00"

Height: 15.00"

H: 3.00" W: 5.00" L: 7.00"
Sort By:
Min price:
Max price:
Items per page: