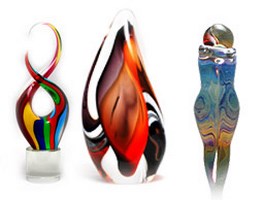 Murano Glass Sculptures
Murano glass sculptures are created very artistically by the artisans of the Murano Island. They have used all their traditional skills to create these much coveted figurines. Some of these figures are very traditional while the others are abstract and follow the modern trends of the art. The colors and the combinations used by the craftsmen betray their expertise with glass coloring. As a result each piece becomes a magnificent work of art. They are, undoubtedly, excellent gift items.
Sort By:
Min price:
Max price:
Items per page:
Height: 17.00"

H: 18" W: 7" L: 4.5"

Height: 14.00"

Height: 27"

Height: 15.00" Width: 10.00"

Height: 16.00" Length: 11.25"

Height: 11.00"

Height: 14.00"

Height: 10.00"

Height: 15.00"

H: 16.00" W: 8.00" L: 8.00"
Sort By:
Min price:
Max price:
Items per page: